What is ANUVRAT?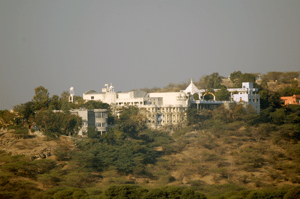 ANUVRAT has already created a deep impact on Indian society. It has been warmly welcomed by all sections of people. On account of the strong support from the masses it has emerged as a national campaign for the regeneration of moral and spiritual values. The main reason of the popular support lies in its thoroughly non-sectarian approach.
ANUVRAT Balodaya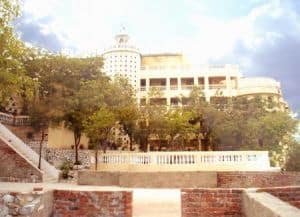 Inspired by Acharya Tulsi's ANUVRAT Movement, Shri Mohan Lal Jain, an eminent Gandhian worker and founder of ANUVIBHA, envisioned a centre for children which may provide them with an opportunity for natural growth and all-round development in an open environment free from fear, burden and binding. With his insights of creativity and constructive vision and by dint of hard work and perseverence he was able to metamorphose the deserted hill into a unique centre for children's psychological transformation. It is now called Children's Peace Palace and is situated on top of a hill overlooking the world famous lake called RAJSAMAND.
Children's Peace Palace
Children's Peace Palace, the Headquarters of ANUVIBHA is a centre for various activities for the all-round development of children. It is ituated on a hillock near the renowned Rajsamand lake. The site was selected keeping in mind the fact that children need a conducive psychological environment for learning. Located in the lap of nature, the centre has been developed during the last 25 years in such a way that a child who visits the place once is fascinated with it so much that he does not want to go back home.
Popular MP from Rajsamand, Princess Dia Kumari reached Balodaya [...]
This children's camp was organized from 18th to 20th [...]
On the International Women's Day a program was held [...]
ANUVRAT Movement aims at social and national transformation through individual transformation and its foundation is child development. Childhood is the most appropriate stage for personality development. ANUVIBHA is doing this quintessential work through ANUVRAT Balodaya.
Children's Peace Palace is a great creation. I understand, in Balodaya model practiced at the Children's Peace Palace, the emphasis is made on enhancing children's emotional competence which is possible only when children stay and spend some time in a special environment created for them. I am very happy to know that this model is based on child psychology. This is most valuable and worthy of emulation by other schools.
I give more importance to this centre than the Disneyland of California which have costed billions of dollors. The reason, in the Disneyland you will find only entertainment but here there is quality at every corner. I would love to call it the Children's Peace Palace.