Founded in 1982, mainly to promote a culture of peace and nonviolence among children and carry the message of ANUVRAT beyond the frontiers of India, ANUVIBHA has steadily grown in size and stature. In view of ANUVIBHA's contribution to a culture of peace among children through its non-violence education programme, it was approved for association with UN-DPI in 1998. Under its international wing, ANUVIBHA has organized nine international conferences on peace and nonviolent action and has developed a rich global network of peace-loving institutions and individuals.
ANUVIBHA is headquartered at Rajsamand, 65 kilometers north of Udaipur where it maintains Children's Peace Palace overlooking Aravali hills and Rajsamand lake. Activities at this centre provide children with an opportunity for natural growth and all-round development in an open environment free from fear, burden, and binding. Thousands of children have participated in these activities in last two decades.
ANUVRAT Balodaya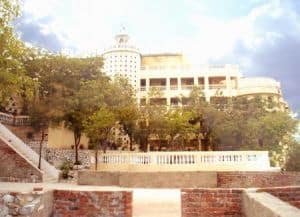 Anuvrat Balodaya believes that children imbibe the spirit of the environment around them. Children's Peace Palace is a laboratory for this purpose where presentations in various galleries and chambers are available in different forms in an environment conducive to moral growth of children, that arouses their curiosity and tries to satisfy it through various child centric activities. The principle passed on child psychology attracts children naturally, enables them to adopt mentally and becomes a forceful medium for inspiring them to take to peace, nonviolence, ethics and good conduct.
CHILDREN's Peace Palace
Children's Peace Palace, the Headquarters of ANUVIBHA is a centre for various activities for the all-round development of children. It is situated on a hillock near the renowned Rajsamand lake. The site was selected keeping in mind the fact that children need a conducive psychological environment for learning. Located in the lap of nature, the centre has been developed during the last 25 years in such a way that a child who visits the place once is fascinated with it so much that he does not want to go back home.
73rd Foundation Day of the Anuvrat Movement was celebrated [...]
Union Minister Shri Arjun Ram Meghwal reached ANUVRAT BALODAYA [...]
The Member of Parliament from Rajsamand, Dia Kumari reached [...]
ANUVRAT Movement aims at social and national transformation through individual transformation and its foundation is child development. Childhood is the most appropriate stage for personality development. ANUVIBHA is doing this quintessential work through ANUVRAT Balodaya.
Children's Peace Palace is a great creation. I understand, in Balodaya model practiced at the Children's Peace Palace, the emphasis is made on enhancing children's emotional competence which is possible only when children stay and spend some time in a special environment created for them. I am very happy to know that this model is based on child psychology. This is most valuable and worthy of emulation by other schools.
I give more importance to this centre than the Disneyland of California which have costed billions of dollors. The reason, in the Disneyland you will find only entertainment but here there is quality at every corner. I would love to call it the Children's Peace Palace.