His Quest for Truth
Acharya Mahapragya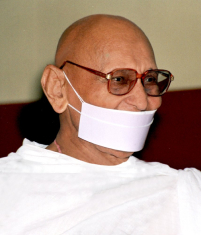 Acharya Mahapragya is one of the most erudite and spiritually elevated saints of India. Very few religious heads possess the qualities that Mahapragyaji evinces in his life. There is nothing extraordinary about his appearance- tall frail body, broad forehead with minute lines, shining eyes, innocent visage attired in white sheet of cloth covering the portion above his waist. But those who come into his contact, sit with him for sometime and have a dialogue with him on the problems that beset the world are amazed at his intuitive insights and wisdom, his quest of the self and his exploration into mind beyond mind. Full of humility and with utmost devotion and gratitude to his revered Guru Late Acharya Tulsi, Acharya Mahapragya's
Acharya Mahapragya has completed seventy eight years of ascetic life which, in fact, are the years of inner awakening.
Highly revered and adored for his philosophical insights and sagely wisdom, Acharya Mahapragya's thoughtful quest for truth has attracted widespread attention from the enlightened sections of our people. For over five decades now, he has been incessantly engaged in discovering techniques and practices for transforming human consciousness in the spiritual realm. Embedded in the verifiable foundations of scientific knowledge, his explorations into new modes of practices and techniques have proved to be extremely popular with the general public.
Born on June 14, 1920 in a small town called Tamkor (Jhunjhunu) of the Rajasthan State, Acharya Mahapragya has developed a new genre of literature, which has generated deep excitement and interest among the intellectuals and thinkers of the nation. His bold formulation regarding science as a major resource for the renewal of the spiritual world and righteousness (dharma) as against the prevalent belief which regards science as being inimical to the realm of the spirit has opened up new avenues of the real dharma (righteousness).
Great Exponent of Ahimsa
A brilliant exponent of ahimsa, and a thinker of deep originality, Acharya Mahapragya's literary output has evoked a deep interest from the reading public, spread all over the country. He has written extensively, with innate insight, on the contemporary issues relating to the problems encountered by humanity.
Our celebrated national poet Ramadhari Singh Dinakar described Acharya Mahapragya as the Vivekanand of today, bearing in mind his original distinguished Bengali litterateur influenced by the Acharya. He considered Mahapragya's discourses and writings to be a unique source of illumination and felt that his own creative writings could have manifested a different orientation, if only he had access to the Acharya's literature a little earlier in his career.
His Scholastic Pursuits and Exploration of the Inner World
His writings have drawn extensively from the philosophical perspective of Anekanta (doctrine of non-absolutism or many-sidedness of truth). As a consequence, he has revealed hitherto unexplored dimensions and possibilities of Jaina Philosophy and Terapantha ideology, fully responsive to the challenges of modernity.
From the Jain canonical and Buddhist scriptures he learnt about various systems of meditation and carried intensive research into Jain meditation system. Acharya Mahapragya has dedicated all his life to the exploration of the inner world which is totally different from the world we live in. He is a profound Dhyan Yogi and has fathomed intensively the mysteries of the mind. Preksha Meditation, a technique evolved by him which takes an individual deep into the spiritual world full of ecstasy and joy, is the result of his intensive research.
He spent the early years of his monastic life in studying the Jain scriptures and sacred texts belonging to other religious traditions and was very much struck by a common component i.e. the quest of the self in almost all faith traditions. The founders, whether they were Tirthankars or Prophets or avatars of the Hindus had dived deep into the ocean of the mind and came out with 'jewels' which they offered to their disciples. Mahapragya took his cue from the awakened souls and began to fathom the depths of his mind through a series of experiments. He sat for hours in the posture of KAYOTSARG and was amazed at the vision of the inner world that lay unfolded before him. Very few modern sages have attained the state of extra-sensory perception which Mahapragyaji has already achieved and the extent to which he has traversed through the labyrinths of mind. It will be in fitness of things to call him a many-splendoured mystic. Preksha Meditation, the result of his several internal trips, is a complete science of meditation. Some claim that Acharya Mahapragya is clairvoyant.
Psychic Centres and Human Emotions
Acharya Mahapragya talks of the psychic centers that exist in human body and their chemical relationship with human emotions. It is a significant achievement in view of the chaotic situation that prevails in the world today. He has also come to the conclusion that the right hemisphere of the human brain, which is directly connected with peace and tranquility, has not been developed properly. The educationists of today are busy developing the left hemisphere of the student's brain which stores intellect, reasoning and desires for materialistic pursuits. In order to bridge this gap between the two chambers of the human brain and to correct the imbalance between the development of its right and left sides he has developed a new approach to education in the form of Jivan Vigyan which aims at physical, mental and emotional development of the child. His researches are profound and have a definite goal i.e. improving the quality of human life and unfolding the secret of happiness. He foresees immense possibilities of human good in his exploration of the inner world.
It was in the course of long hours of meditation that he discovered that human mind has infinite energies that can transform the entire world into a heaven of bliss. His most outstanding contribution to the world of meditation is the colour meditation which takes a human being to a world that cannot be described in words. All his findings are based on personal experiences. For him truth comes from within.
His Ahimsa Yatra
When communal violence flared in different parts of India, Acharya Mahapragya embarked on Ahimsa Yatra five years ago to heal the wounds of the people who fell victims to communal frenzy. He toured the strife-torn Gujrat and exhorted people to eschew violence. His healing touch had a tremendous impact and people responded positively to his appeal. He visited the worst affected areas in Ahemdabad and was instrumental in extinguishing the flames of violence. He contributed significantly to creating a state of normalcy and peace in Gujrat. Last year he was honoured with the prestigious Indira Gandhi Award for National Integration by Congress President Sonia Gandhi. In view of his relentless crusade against violence and communal hatred the Government of India chose him for the prestigious Communal Harmony Award which was conferred on him in New Delhi in the gracious presence of the Prime Minister, President and Vice-President of India. He is continuing his Ahimsa Yatra to create Ahimsa awareness among people and prevent conflicts between different communities.
He seeks Transformation through Preksha Meditation
Thousands of people from India and abroad have practised and benefited from Preksha Meditation and have changed their lifestyles completely. I have met a large number of people who were peevish, restless and tense but after their encounter with Mahapragya they are now completely transformed and are calm, serene and extremely happy. Notwithstanding his great achievement he is unassuming and simple; innocence is writ large on his face. A Dhyan Yogi as he is, he remains withdrawn into his inner world of perennial joy most of the time and shares it with those whose lives are torn apart by conflicts, unrest and calamities. People flock to him to seek solace and the solution of their problems. I find Acharya Mahapragya a saint par excellence. He lays stress on the new birth of an individual who is spiritually elevated and combines both scientific and spiritual outlook.
What Mahapragya says about himself
To know Mahapragyaji fully well one must read what he says about himself. His words are reproduced below:-
"I am an ascetic. I enjoy the boundless grace of Gurudev Shree Tulsi. My asceticism is not bound by inert rituals. My faith is in that asceticism which is not lifeless. I have faith in that asceticism which is a veritable ocean of joy. I have faith in that asceticism which has a perennial source of energy.
I follow a tradition but do not treat its dynamic elements as static. I derive benefit from out of the scriptures, but do not believe in carrying them as a burden.
The insight I have gained does not admit of separation between the past and the present. The two are integrated in it. In my consciousness there is no bondage of 'yours and mine.' It is free from it. My spiritual practice does not 'worship' truth, it subjects it to minute surgery.
The only mission of life is boundless curiosity to know truth. That is precisely my asceticism. It is not an external accoutrement. Like a seed it is sprouting out of my inner being.
There was a time when Indians actively pursued the method of directly experiencing the truth. The present-day Indian mentality is afflicted by indirect experience. Both his thinking and interpretation are borrowed. This is a self-evident proof of its imbecility. I have but one wish - initial, medial and final - to save present - day India from the affliction of indirect experience and to lead it towards direct experience."
As I Saw Him
I have watched Acharya Mahapragya's gradual ascent to the peak of transcendal wisdom closely. As a student I was awe struck by the profoundity of his erudition. Whenever I went to pay my obeisance to him I saw huge piles of books around him.
He studied not only Jain Agamas but also the sacred texts of all major religious traditions and found that each tradition embodies a rich heritage of eternal truths. He is trying to unite the forces of ahimsa under the auspices of Ahimsa Samvaaya - a forum for sharing the vision of nonviolence and evolving a joint action plan to combat the challenge of violence. In the course of his Ahimsa Yatra as he walked barefoot deep into remote villages his heart was moved at the plight of children who were reduced to skeletons for want of food. The other problem that he saw was the rising trend of intolerance and discord between different communities. He instructed his disciples to focus on hunger instead of poverty because a person can live without a house or clothes but he cannot live without bread. Their second priority should be to create interfaith harmony.
His Humanness and Relative Nonviolence
He doesn't oppose globalization but wants marginalized groups to be taken care of. He has propounded a new model of economics in the din and tumult of globalization called sapeksha arthashastra. If only greed becomes the focus of companies and businesspersons, the rivers of compassion will dry up. He says, 'every individual should remember that the planet earth belongs to all living beings that inhabit it, so leave some resources for them too.' His mission is to extricate humanity from the mire of despair into which it has sunk by infusing it with new confidence and realization that peaceful co-existence alone will make them happy.
A Many-splendoured Mystic
Acharya Mahapragya's personality is truly many-splendoured. He is a meditative yogi, a monk, a thinker, a writer, a researcher, a dedicated disciple of his Guru, a nonviolence marcher, and above all an effulgent soul. His figure bears a striking likeness to that of Gandhi. Verily he continues the legacy of active nonviolence.
I will sum up my article by reproducing what Mr. Sunder Rajan, an eminent aura specialist commented when he first saw the Acharya in 1994. He said, "Such an aura is rarely possessed by anyone. All the colours in it are pure, radiant and powerful. Your aura is diffused with yellow, blue and green colours. It indicates that you are endowed with intuitive insight and extra - sensory perception. What strikes most in your aura is that there isn't any tainted and distorted colour in it."
At the age of 89 he exudes boundless energy. Verily he is a living Mahavira of this age. We salute him in all humility and wish that he may live long to inspire people to live the good life.