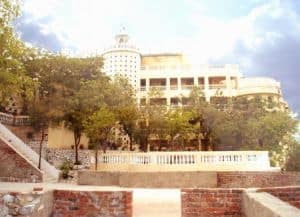 Children's Peace Palace, the Headquarters of Anuvibha is a centre for various activities for the all-round development of children. It is ituated on a hillock near the renowned Rajsamand lake. The site was selected keeping in mind the fact that children need a conducive psychological environment for learning. Located in the lap of nature, the centre has been developed during the last 25 years in such a way that a child who visits the place once is fascinated with it so much that he does not want to go back home.
Rajsamand is a district headquarter, 65 k.m. away from the famous city of Udaipur in southern Rajasthan. Nathdwara, known for its Shrinathji Temple is located on 16 K.m. from Rajsamand. The area is surrounded by the Aravali Hills and there are several historical places of great interest in the surrounding area including the famous Haldighati, Chittorgarh, Kumbhalgarh and Ranakpur which are located within the diameter of 100 k.m. only.
Children's Peace Palace has been set up mainly for organizing camps for children. The first Balodaya camp was inaugurated here by the then Governor the Rajasthan, Shri Bali Ram Bhagat on December 1, 1996. More than 300 camps have been organized here since then. School children from all over the country keep coming to this place in increasing numbers.
In Children's Peace Palace more than 50 special rooms, galleries, caves, etc. have been set up, a brief mention of which will be relevant here :
We let the children seek inspiration in several ways from the life and character of great men. Documentary films on great men from various walks of life are shown to them in a beautiful oval shaped hall to illustrate their ideals through an effective visual medium. Through a constructive dialogue, children focus their attention on a greatman and learn to emulate his ideas in their own lives. Films on a number of great men are available there.
To arouse a natural interest in the Indian culture and develop a sense of nationalism among children, Balodaya Programme offers a number of opportunities. A 200Ft. long wall painting illustrates in a unique manner with the concept of unity in diversity in India. The painting shows glimpses of fold dances from all the Indian states in a model form. The symbols of national unity at the centre have been carved artistically. When children assemble here and sing songs of love for the country, it seems to be surging through their hearts.
Balodaya Doll House introduces the various facets of Indian culture in a unique way. Dolls in attires of various states are displayed here – there are about 100 dolls. The promulgation for every state gives an introduction to its culture. This doll house is always a great centre of attraction for children. Similarly, 'Mera Bharat Mahaan' and 'Rengeela Rajasthan' are other endeavours to acquaint children with our culture. During the camp period, activities are conducted in a special manner which ensure a constructive dialogue with children who participate in the process of learning with great enthusiasm.
Democracy has become an important part of our social order. If children are introduced to its importance and functioning at an early age, it will serve a great purpose of the purification of the democratic system. The children participating in the cam have their own children's parliament and through it they get basic information about democracy, elections, the system of governance, etc. Thus, they learn effectively by playing relevant games. For this purpose, a 'Unite India' hall is being developed in the shape of Parliament House of Global Peace Palace.
Special programmes are conducted in Balodaya Camps for emotional and spiritual development of children. Jivan Vigyan or what we call Science of Living is an important dimension in the field of education. Yogic exercises, asanas and pranayam help in the emotional development of children whereas value education is an integral part of Science of Living. In brief, Science of Living is complimentary to the present system of education. Yogic exercises are an important part of the daily programme at the camp. For all these activities a special Science of Living hall has been developed. For the practice in meditational concentration several caves have been made at the Peace Palace. The caves for bringing awareness, practicing sessions of concentration of mind and senses may appear to be simply means of enjoyment or playing games but in fact they play an important psychological role in developing the faculty of concentration in children.
Children enjoy the company of their peers. The activities of their peers exercise a greet influence on their mind. Children who may have done something extraordinary in their childhood, can be a source of inspiration for other children. Keeping this in view, the exemplary deeds done by extraordinary children have been shown through sketches. 'Veer Balak Kaksh', 'Vineet Balak Kaksh', 'Sevabhavi Balak Kaksh', 'Adhyatmik Balak Kaksh' and 'Vaigyanik Balak Kaksh' are the venues where the camping children try to see themselves in place of those extraordinary children. These rooms are useful in the sense that they encourage the children to know their potential powers and inspire them to do great deeds.
The Curiosity Centre is a great source of entertainment and knowledge. Children can see through long distance glasses fitted in the holes in the walls of a circular room the various scenes shown inside the room and enjoy them. Through the slide projector and the audio system installed in the room children can see places of interest in the country and the world, historical places and glimpses of different cultures which arouse curiosity in their mind as well as make them knowledgeable.
To impart comprehensive knowledge about the world a World View Gallery has been created wherein information about 100 countries has been displayed in bookcases. This gallery plays an important role in widening the mental horizon and outlook of young children.
The Balodaya Library is the centre of all activities. It has a rich collection of books on various subjects related to children. It has books in 12 Indian languages besides those in Hindi and English. Children from various states and different linguistic background feel quite at home at the Global Peace Palace, specially when they get books to read in their mother tongue. In addition, the library subscribes to a number of newspapers and magazines so that children can get the latest information on current events.
In the age of scientific developments and information technology it is necessary to give basic information to children on these subjects. For this purpose, a science room and an e-room have been built. Efforts are made in the camp to encourage children to inculcate scientific thinking through scientific tools, experiments and games. The museum has not only a collection of hundreds of items daily use but is also a great centre of attraction for children. Here information is imparted through scientific analysis of various processes and things.
Looking to the importance of art in life, rooms for music and art have also been built. For self-reliance activities in the workshop are helpful. For cultural programmes, there is an impressive auditorium and an open air theatre.
In this way, Balodaya inspires the children through various activities and means and provides an opportunity for them to recognize their talent and know their aptitude, thus, paving the way for their advancement.