A Profile of Shri Mohan Lal Jain
Founder of Anuvibha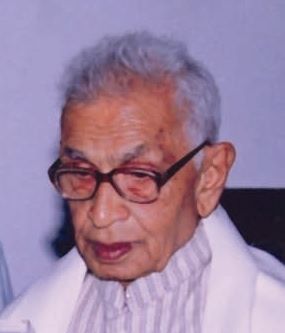 Shri Mohan Lal Jain, popularly known as Mohan Bhai was born on 28th Sept. 1919 at Sardarshahar – small town in the district Churu of Rajasthan. He was a staunch Gandhian and man of principles. He never went to school, yet his contribution in the field of education and his relentless crusade against social injustice, poverty and exploitation reveal deep insights. He founded many institutions dedicated to children's education and handed them over to those who could run them. This shows his dispassionate attitude towards life. His life is a rare example of selfless dedication.
Though, born in a rich Jain family, Mohan Bhai chose the difficult path of social service. He also faced strong oppositions from the society and family members too when he started working among Harijans. At the age of 16 years he joined the Independence Movement in Sardarshahar. He was the first person in that region who dared to start activities related to the freedom struggle. He actively participated in the freedom struggle till India won her freedom in 1947.
After independence, he diverted his attention to the cause of the down-trodden i.e. Harijans. He was always worried about the carelessness of the parents and the society towards all-round development and proper education of the children. The conditions of the children of Harijan families were worst. He founded the first educational institution Bapa Seva Sadan for Harijan children. Then he never looked back and started many institutions during his socially active life of 8 decades. Bapa Seva Sadan (an institute for Harijans based on Gandhiji's Basic Educations and other related activities), Bal Mandir ( a Montessori system based school), Balika Vidyalay (a model school for girls), Gyan Mandir (an institute to propagate good literature), Bal Badi (a Giju Bhai systam based school), Vardasar Adarsh Gram (a model village for Harijans), Bhartiya Sanskar Nirman Samiti (a nation wide movement of character-building), Anuvrat Vishva Barati (Anuvibha – a unique institute of its kind for all-round development of children), Bhagirathi Seva Pranyas (a Trust to serve down trodden children)) etc. These are the major institutes founded by Mohan Bhai.
Mohan Bhai was greatly impressed by the lives of Mahatma Gandhi and Acharya Tulsi. He actively associated himself with the Anuvrat Movement of Acharya Tulsi which aims at the self transformation of an individual. He was honoured with the prestigious Anuvrat AWARD for his selfless and dedicated services in this field.
At the age of 65 years, when a common man wished to retire from all the responsibility, Mohan Bhai took a new challenge to establish a new institution on a bare hill top in Rajsamand, 500 kilometers away from his native place. The natural beauty and tranquility of the place inspired him to set a children's paradise there which was his dream for many years. Presently, the institution thus founded by him- Anuvrat Vishva Bharati (Anuvibha) which is a transnational center for peace and nonviolent action and is associated with UN-DPI.
The 'Children's Peace Palace' envisaged and designed by Mohan Bhai is the headquarters of Anuvibha. This is a beautiful building situated on a hill top near the bank of the famous Rajsamand Lake. The whole campus is devoted to activities related to all-round development of children through its unique program 'Anuvrat Balodaya'. Under this program periodical camps are organized to imbibe human values in school children – moral, aesthetic, cultural, social & spiritual and to build character, not through preaching, but through providing a learning environment which motivates children to develop character and values on the solid foundation of Indian culture. For example, children learn of 'courage' not through being told , but by visiting 'Great Children Gallery' where they observe portraits, incidents and events recreated for the purpose of illustrating 'Courage'. There are around 30 such galleries and rooms in the Peace Palace. In an atmosphere free of fear and burden, children who participate in the Balodaya camps, enjoy their stay here and through different activities learn the true direction of their future life.
Mohan Bhai's life is an rare example of how an individual can devote his whole life to the cause of humanity. He was awarded "Rajiv Gandhi Manav Seva Puraskar" by the Government of Inida. Mohan Bhai lef this word for eternal journey on April 24, 2014 at the age of 95 years. He was posthumously awarded the highest honour of Terapanth Jain Sect "SAMAJ BHUSHAN" on the occasion of his Birth Centenary Year in the year 2019 under auspices of HH Acharya Mahashraman.