A Noble Soul And An Extraordinary Genius
Acharya Mahashraman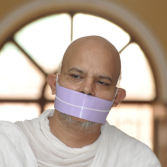 Glorious in peace, sharp in silence, humble in learning and speciality in simplicity is the brief introduction of Acharya Mahashraman. He possesses an extraordinary genius and minute insight and intuition. Extreme gentleness and complete dedication are the important features of his singular personality. In 1997 at the age of 35 years he became the "Yuvacharya" successor designate to the then Acharya. He became Acharya on 9th May 2010 after the Mahaprayan of His Holiness Acharya Mahapragya.
This noble soul and great thinker was borned in 1962 at Sardarsahar, a medium town in Rajasthan. On 5th of May 1974 at the age of 12 years he became a monk. Under the able guidance of Acharya Tulsi and Acharya Mahapragya, he got his education and proved himself as an ardent disciple. He possesses the qualities of a scholar, writer, brilliant speaker, meditator and impressionable personality.
Presently, Acharya Mahashraman is the Eleventh Acharya of the Terapanth Jain Sect and the spiritual head of the Anuvrat Movement. If one were to describe him physically, you would see a man of medium height, fair with a broad forehead, an angular sharp nose and compassionate eyes. His devotees feel immense bliss just by getting his graceful blessings.
Bereft of worldly desires, unattached, unperturbed, humble, and loyal, full of spark, soft-spoken, generous, and open minded - are just some of the words that can be used to describe his inner self. His personality is integration of illuminating and forgiving, spiritual and leadership, principle and pragmatic collaboration. His demeanour full of love attracts everyone instantly, even those meeting him for the first time. Such a rare balanced personality is truly possessed by him.
Despite being an Acharya of a religious order, his views are liberal and secular. He has a firm conviction to promote nonviolence, moral values and principles. He derives satisfaction and a sense of accomplishment only from diligent work.
Impressed with your note worthy efforts, Pacific University has taken pride in conferring him with the title 'Shantidoot'. Indian Digambar Jain Pilgrimage Committee has adorned him as 'Shraman Sanskriti Udgata'.
'Viharcharya Isinam Pasattha' - an aphorism of Jain Aagam is truly practiced by Acharya Mahashraman as he has devoted his life to travel remote places by foot, across hundreds of kilometers, visiting various villages, towns and cities, meeting and helping people and igniting a new enthusiasm within them. He strongly believes that it is a powerful way of being benevolent and empathetic.
Till date, Acharya Shri has blessed several parts of India from Rajasthan to Bengal and from Assam to Tamilnadu with his auspicious visits. He has also visited Nepal. Acharya Shri has travelled on foot more than 30,000 kmsand yet his enthusiasm adds new dimensions. His swift walking itself is a testimony to his sprightliness.
During the substantial 'Ahimsa Yatra' covering almost20,000 kms, hundreds and thousands of people had the opportunity to listen the soulful discourses by him. While on tour of the remote tribal areas, His Holiness explained the significance of principle ofAhimsa. Many tribal people not only listened and understood Ahimsa but also accepted it practically by renouncing hunting, addictive substances, non-vegetarian food and innocent killing.
Acharya Mahashraman is among the few Preceptors and Thinkers who have not only promoted the concept of worshipping the soul far and wide, but also live and practice it constantly. He augments all the virtues of sainthood and is known as a determined yogi. He is a living example of the concept of the 'Sthitapragya' as described in theShrimad Bhagvad Gita. This is the reason why every person entering his aura feels purity, peace and solace.
His full focus and dedication towards the goal has strengthened his power of renunciation. His practice of self-discipline is excellent and unique. The driving force of India's Saint Traditions, the renunciation, is prospered by his soft feelings, self-discipline, sin-fearing and self-honesty. Due to the firmness of his internal austerity, H.H.Acharya Mahapragya honored Acharya Mahashraman as 'Mahatapasvi' or 'A Great Austere'.
Race, class, color, community, creed, nationality and other types of discriminations have no place in his discourses. His preaching onShrimad Bhagvad Gitaand Buddhist scripture 'Dhammapad' speaks volumes of his solidarity and communion. He believes that texts, sacred notes, religious orders or Saints can be different but their learnings, experiences and facts are the same. And this is the reason why Hindus, Muslims, Sikhs, Christians, Jains, Buddhists among others, all respect and accept his preaching.
Jain Aagamis the backbone of his speeches. Through quotes and verses ofSanskrit and Prakrit, Hindi poems and stories, he concentrates on Jain Aagam's teachings and presents them through simple and lucid dialogue. His melodious inspirational songs spellbind the audience.
In his everyday's demanding routine, His Holiness takes out the time engaging himself in literary work. He is a great scholar of Hindi, English, Sanskrit, Prakrit and Rajasthani languages. He has composed hundreds of shlokas/verses in the Sanskrit language. His book 'Shemushi' has been included in the syllabus of the University. Hindi and Rajasthani poems also form part of his literary work.
Acharya Mahashraman has made strenuous efforts towards the development of a society free from social evils. Self-development and welfare of society are two inseparable principles of his life. His contemplative consciousness is always active, resolving the problems of society, country and the world.
He opposes social evils, superstitions and orthodox religious beliefs with great vigor. He says with conviction that "The society which is orthodox and entangled in false beliefs, and the leaders of that society don't think about its values, progress and control, the society doesn't remain a society but becomes equivalent to a cattle herd devoid of intellect and dignity. The faith or religion which doesn't improve a person's life is not faith at all but betrayal. Religious values should reflect in human behavior."
He works endlessly trying to resolve the widespread problems which are faced by the society such as untouchability, casteism, betrayal, religious discrimination, addiction, dowry, female infanticide, feticide and other types of social evils. During his bare-footed journeys, he has made thousands of devotees to be imbibed by four pledges as follows:
I shall believe in human solidarity.
I shall not fight on the issues of caste, community and religion, shall not fight at home and shall live in peace.
I shall practice to be honest in all my dealings.
I shall practice to be addiction free.
His Holiness believes that by establishing nonviolence, compassion, peace and morality, our duty-centric society can be healthy. After getting inspired by his words and works, thousands of people pledged their promise of living an addiction-free life and taking a step forward towards living a healthy lifestyle. People threw away packets of cigarettes, tobacco and gutka and made their promises to pave the way for creating nonviolent dynamic society.
Acharya Shri Mahapragya used to say, 'I consider it to be my good fortune that I got a successor like Acharya Mahashraman. His gentleness, patience and simplicity have attracted my mind. He was hardworking, unselfish, effort-taking and had consciousness of divinity'. Created and architected by two World renowned Great Acharyas, Acharya Mahashraman is dedicated and devoted firmly in carrying forward a legacy - a heritage of values and ideals of his Gurus - Acharya Tulsi and Acharya Mahapragya and fulfill their dreams.
He has a devoted and dedicated spiritual strength of more than 800 monks and nuns, who make rigorous spiritual pursuits and bear endurance, accepted the responsibility of developing humanity. The'Saman Order'whose strength is of more than100is disseminating the words of His Holiness all over the world. By way of studies at many established Centers and Universities in the foreign lands, they are carrying out the vital task of spreading divinity and spiritualism in the world of modernity.
Jain Shwetambar Terapanthi Mahasabha and thousands of members associated with its475 centersall around the world are committed to accomplish the vision of His Holiness. His blessings have generated a sacred vigor among them.
The spiritual young force of more than 35,000 youths of the Akhil Bhartiya Terapanth Yuvak Parishad, with more than300 branches, undertakes various humanitarian activities for the upliftment of society. His Holiness is himself young and his one instruction brings life to the huge youth wagon.
Under the divine leadership of His Holiness, the Akhil Bhartiya Terapanth Mahila Mandal of more than60,000 women with 375 branchesorganizes myriad events and women empowerment programs, working towards strengthening the Indian culture and traditions. Hundreds of thousands of people feel sacredly blessed by having Acharya Shri Mahashraman as their Guru. His Holiness is their divine shrine of faith. His spiritual guidance is ushering their way for progress.
Acharya Mahashraman, as anAnuvrat Anushasta, is skillfully navigating theAnuvratMovement by spreading the message of 'Self-discipline is Life'. The 'Anuvrat' movement came into existence on2nd March, 1949by Acharya Tulsi. The movement was initiated to establish moral values. The word 'Anuvrat' means a set of small vows developed to eradicate social evils like casteism, communal disharmony, dowry, cheating, violence, etc. It is an annotative blessing for humanity by Acharya Shri Tulsi. Anuvrat presents the broad perspective of religion and faith to the society by transcending the discrimination of caste, state, religion, color and gender. A person of any caste, creed, color and religion can have the pride of being anAnuvrat. Anuvrat plays an important role in building character and morals in society.
The first President of IndiaDr. Rajendra Prasad, Pandit Jawaharlal Nehru, Dr. Radhakrishnan, Jayaprakash Narayan, AnnaDurai, Vinoba Bhave, C. Rajagopalachari, Dalai Lama,etc. have mentioned that Anuvrat is a great tool for prosperity of our country and themselves became a strong supporter. Under the leadership of Acharya Shri Mahashraman, the Anuvrat Mahasamiti, with more than200 branchesacross India and abroad, Anuvrat Vishwa Bharati and Anuvrat Nyas - all three are propagating the message of morality the world over.
Acharya Shri Mahashraman, who has attained the true depth of contemplation through the practice of Preksha Meditation, inspires humankind for inner transformation. Acharya Mahashraman, under the guidance of Acharya Mahapragya, the Preksha Meditation pioneer, has soulfully amalgamated the secrets of meditation for many years. Thousands of people from all over the world have experienced peace and happiness by the practices enunciated by him in the Preksha Meditation camps.
Preksha Meditation is a practice by which thoughts and consciousness are made pure and is a process of self realization. In simple words 'Preksha' means 'To see Yourself'. To know and perceive subtle vibrations of body, mind and soul without attachment and hatred'. The objective of Preksha Meditation is - Purity of Consciousness. Preksha Meditation helps us in experiencing balance, happiness and peace. This technique facilitates to attain freedom from mental stress, transformation and recreation of energy, attitudinal change and behavioral modification and development of concentration. Preksha Meditation is the door for meditational tranquility, and relives from physical, mental ailments and emotional chaos.
Science of Living, founded by the Acharya Mahapragya, is now under the auspicious guidance of Acharya Mahashraman proving to be an important aspect in the development aspiritio-scientificpersonality. Science of Living teaches the art of living a life. It is a vital educational program for the integrated advancement of the next generation. Science of Living has already been introduced in the syllabus in several states such as Rajasthan, Delhi, Karnataka, Tamil Nadu, Gujarat, Madhya Pradesh and Chhattisgarh.
Among the humanitarian and societal programs executed by Terapanth Community, education has always had the topmost priority in list of activities undertaken by Acharya Mahashraman. Under this movement, education from Primary to University level is organized.