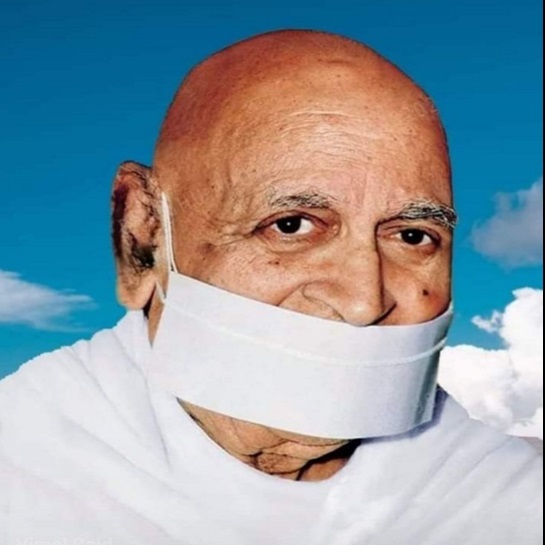 "Like some men at various other places, here is an Indian, lean, thin and short-statured but with shining eyes, who is very worried about the present state of the world. He is Tulsi, aged 36, the preceptor of the Jain Terapanth, a religious organization having faith in nonviolence. Acharya Tulsi founded the ANUVRATI Sangh in 1949… when he has succeeded in making all Indians undertake these vows he will try to convert the rest of the world to the life of a 'vrati' (a person with deep commitment to fundamental human values)," wrote 'The Times' published in New York on 15th May 1950 under the caption 'Atom Bomb.' This editorial comment was prompted by an unusual event that had taken place on the last day of April within the sprawling precincts of the Municipal Corporation in Chandni Chowk – the busiest centre of old Delhi. The occasion was the first All India Conference of the ANUVRATI Sangh organized after one year of its inception. Seated on the dais was the Acharya, young and extremely handsome. His face radiated an aura of divinity. His disciples, wearing traditional dresses characteristic of their profession, had gathered to listen to his special message on this historic occasion. The young Acharya declared that he had resolved to launch a crusade against immorality in social life and dedicate his entire life to the cause of nonviolence and unity of all human beings. He threw off the yoke of sectarian dogmas and exhorted his disciples to volunteer for the disciplined life of an ANUVRATI.
He said: "If an atom has in it the monstrous power to destroy the world, amply demonstrated in the unprecedented holocaust at Hiroshima and Nagasaki, I want to tell the world that we have its counterpart in ANUVRAT – a basic vow – which alone has the power to ward off and counter the threat of an atom bomb."
The appeal had a magical effect on the audience. What astounded the people was that more than six hundred of his disciples, mostly businessman, stood up, as if they had all been propelled by the force of a divine power, and accepted ANUVRATs (basic vows) pledging themselves never to resort to black marketing, bribery, exploitation, communalism, adulteration and senseless violence.
It was no small event. No wonder the saint's voice evoked favourable comments in all leading newspapers of the world. Whenever Tulsi reminisced about the unforgettable moment in the course of his discourses, his face was lit up with unspeakable spiritual joy.
Every breath he let out carried atoms of profound wisdom and enlightenment with. I had watched him grow into a colossus during the last four decades of my association with his work on account of his broad-minded approach to religion and deep compassion for all forms of life i.e. humans, animals, plants, trees and even insects and microbes.
ANUVRAT Movement
Acharya Tulsi's ANUVRAT Movement has since grown into a mighty banyan tree with its branches spreading in all directions. It has shown light to thousands of people belonging to all parts of the world. More and more people looked upon the saint as a beacon to light their path to a bright tomorrow, with peace and love reigning everywhere. ANUVRAT means a basic vow or a commandment renouncing individual moral lapses and shortcomings. A rigorous commitment to and an unhindered practice of ANUVRAT will cleanse all the moral filth and make this world a healthy and happy place to live in. Corrupt practices, narrow-mindedness and lack of education vitiate human psychology, which in turn debases human character. Universal observance of ANUVRAT can bring about a moral regeneration by creating a climate of peace, nonviolence and amity.
A Unique Personality
The story of the life of ANUVRAT Anushashta – the saint who marched barefoot exhorting people to give up violence and hatred – is in truth the story of a noble soul, a peacemaker par excellence. His neighbourhood always resounded with the words:
"A human being is a human being first. He may be a Hindu or Muslim only after that."
The name of this great man was Acharya Tulsi, a great exponent of the religion of humanism in this century. He added a new context to the ancient Indian Mahrishi Ved Vyasa's view that "man is the finet of all the living beings of the world. Therefore, he deserves to be pardoned for whatever he does." Tulsi changed this concept altogether:
Man's excellence lies in his ability to judge what is right. He is imbued with discretion which enables him to exercise self-control. He has in him the ability to give up what he deems fit to be abandoned and take in what he thinks useful. He can make his character sublime.
Some people who did not know Acharya Tulsi asked him, "Who are you?" He introduced himself in the following words:
"I am a human being first and then a religious man. As regards my being a Jain and Head of a Jain sect, I put these positions in the third and fourth places, respectively."
To him, sect was relegated to the fourth place. People who accord the first place to their sect only cover the light of religion with a pall of darkness. Tulsi revitalized religion with his new concept. The secret of the incessant flow of his vitality lay in his personality composed of the atoms of generosity.
Fair complexion, medium stature, imposing forehead, large shining eyes, long ears – it was the outward visual image of his personality which fascinated everyone. A cheerful disposition, inborn purity, a feeling of equanimity towards all, subtle perception of spiritual love, broad thinking an an unruffled state of mind even in the midst of hostile opposition, and complete absence of parochial, sectarian, racial and linguistic narrowness summed up his inward personality which despite being invisible revealed itself from time to time.
The mark of a man's greatness lies not in the loftiness of the position he holds but in the impact his life and work create on society. When we apply this yardstick to measure the greatness of some living personages of our age, we place Tulsi in the foremost rank of effulgent souls. The lives of all great men show a common characteristic i.e. they dedicate themselves to the noble cause of human welfare and work dispassionately for the accomplishment of their ultimate goal. They suffer silently in the course of their struggle to rid the people of their distress and agony emanating from poverty, ignorance, selfishness, diseases and lust for power. History substantiates the truth of the universal belief that great men emerge on the scene of the world whenever a crisis threatens the existence of humankind. The pages of our history are replete with the glorious deeds of such heroic personages. What is it that distinguishes one great man from the other? It is the method or the way that he adopts to extricate the people from difficulties that makes him appear distinct from the other. When Punjab was aflame with discontent and Sikh militancy, Tulsi persuaded the former Prime Minister Rajiv Gandhi and the Sikh religious leader Sant Longowal for an accord. His efforts succeeded and Rajiv-Longowal Accord was signed. It brought peace to this highly disturbed state.
Like Mother Teresa and Bishop Tutu, saint Tulsi dedicated all his life to the noble cause of peace and nonviolence. He inspired millions of people to refrain from violence, hatred, exploitation, concentration of wealth and addition to harmful drugs, In fact he was a humanist and a great humanitarian. His mission to spread the message of nonviolence, peace and international amity is, besides being sublime in the highest degree, a vital need of the hour. To the dazed humanity threatened with the direct prospect of nuclear annihilation, he was a beacon and messenger of love.
Tulsi's life and his style of working were also unique in their own way. He was a religious leader and an ascetic. He wore the robe of a particular sect. It is difficult for the people outside India to imagine his limitations and the heroic endeavour he launched to bring peace to a world torn by strife and violence. He walked barefoot and did not accept meals exclusively cooked for him. He didn't use a fan to get respite from the scorching heat nor did he wear warm clothes to protect his body from the rigours of cold. Apart from these external signs of constraint, Tulsi had to struggle against the tenacity of a religious tradition and face tough internal resistance whenever he introduced an innovation. Judging by the magnitude of these odds in which he had to work and from the success he had achieved in unifying the forces of nonviolence, we think that he was a spiritual leader with a difference. Only he who has had the good fortune of spending even a day with this peerless saint could realize how he was trying to bring about a mass psychological transformation with the instrument of ANUVRAT (basic vows).
His morning assemblies were veritably reminiscent of the ones held by Mahatma Gandhi. The people from all sections of society flocked in thousands to listen to him. To the vast multitudes Tulsi's message is a clarion call against hatred and violence being unleashed all over the world in the name of religion. His conviction was that if the individual was transformed, the transformation of society, nation and the world would follow naturally. So he met individuals, groups of individuals and leaders and persuaded them to pledge themselves to adhere to a minimum moral code for the sake of a bigger cause i.e. human survival. Peacemaking or conflict resolution went on at all levels uninterrupted. He visited Harijan colonies, meet Muslim brothers and talked to the individual families and exhorted them to make an offering of all their weaknesses or evils at the altar of ANUVRAT which symbolizes inner purity and spiritual good. It is what Acharya Mahapragya has said of saint Tulsi :
"It is a universal truth that austerities alone lend luster to a human personality and practicing what a person preaches makes him an ideal for all. This will be true at all times but particularly so in an age of democracy. Saint Tulsi set a unique example of an austere way of life and showed infinite application of his ideas to actual practice. In popular language he had all done this for the good of the people. In his own language he had done it as part of his spiritual practice. He did not believe that one could do any good to others without being good oneself. According to him the setting of an example of good life by a person is a source of inspiration for others. Only he can bring about a change in others who has brought about a change in himself. Acharya Tulsi was an amalgam of devotion, reason, feeling, equanimity and leadership. He was at once hard and tender, sympathetic and detached, affectionate and disinterested."
His Contribution to Social Excellence
A unique thing he started during the period of his acharyaship was the education of Sadhvis (nuns), who were traditionally denied the benefit of education. Historically, it was a radical step and henceforward there would be a common syllabus for Sadhus (monks) and Sadhvis (nuns), comprising Jain metaphysics, philosophy, psychology, comparative study of oriental and western philosophies, history and literature.
The organization of three highly successful international conferences on peace and nonviolent action by ANUVIBHA under his auspices at Ladnun, Rajsamand, and Ladnun again in 1988, 1991 and 1995 respectively speaks volumes of his deep concern for human survival. The first Ladnun Declaration – a concrete action plan for the creation of a nonviolent socio-political world order and Rajsamand Declaration for Training in Nonviolence as an instrument for individual transformation issued by the delegates of the two conferences under his guidance are stepping stones to a global ethic. The 1995 Ladnun Declaration for a Nonviolent World and Ecological Harmony through Spiritual Transformation is a significant document that sets forth twenty-one conditions for the realization of the goal.
In order to spread his message of ANUVRAT, Tulsi walked barefoot throughout the subcontinent, since Jain Munis never use any transport or wear shoes. He had walked about one hundred thousand kilometers through uneven rough terrain on dusty roads and sandy tracks and had inspired thousands of people to live the good life rooted in ahimsa. He had promoted reconciliation among various faiths by initiating a series of inter-religious dialogues. He had encouraged his disciples to serve Harijans and work for their uplift. A new organization called Bhartiya Sanskar Nirman Samiti sprang up exclusively for the welfare of Harijans. Hundreds of Harijans and people belonging to weaker sections of society renounced drugs and alcohol in response to the saint's call for total abstinence. To promote communal and interfaith harmony he visited churches, temples and mosques and invited the representatives of other faiths to come to his place and speak about the principles of their religious traditions.
In the course of his long walks and meetings with people, he realized that more preaching would not yield the desired results. He added Preksha Meditation and Jivan Vigyan (Science of Living) to his mission for inner transformation of individuals and younger generation. Jain Vishva Bharati, another organization to realize his dream of mass psychological transformation, was born. For carrying out scientific experiments and research into meditation, ahimsa, science of living and Jainology, an institute of higher education with a status of a university called Jain Vishva Bharati Institute was established at Ladnun under his spiritual discipline five years ago. It is now gradually emerging as a pace-setter in the field of behavioural research and attitudinal changes.
Awards and Honours Conferred on Him
As a matter of fact Acharya Tulsi dedicated all his life to the spread of the ANUVRAT movement which he used as an effective tool to promote national and emotional integration among the people of this country. In 1985, Rajasthan Vidyapeeth of Udaipur, which has the status of a university, honoured him at a public function by conferring on him Bharat Jyoti – the highest honour of the Institute – for his significant contribution to our cultural heritage. Gyani Zail Singh – the then President of India – presented the award to him in the presence of a mammoth gathering.
Recognizing his significant contribution to national integration, the Government of India nominated him as a member of the National Integration Council in 1989.
Again in 1992 an honourary degree of VAKPATI was conferred on him by the Institute of Higher Tibetan Buddhist Studies, Varanasi in recognition of his efforts to preserve and promote the ethical tenets enshrined in the two streams of the Shramanic Tradition, i.e. Buddhism and Jainism.
In 1993 he was honoured by Mr. Narsimha Rao – the then Prime Minister of India by conferring on him the prestigious Indira Gandhi Award for National Integration. In 1995 he was honoured by the Mewar Foundation created by the erstwhile ruler of Mewar (formerly a princely state of Rajasthan) with the Hakiam Kha Sur Award for his contribution to national integration.
His Crusade Against Social Ills
His work has not been confined to a particular area. When he was aware that foul and unhealthy practices were being increasingly resorted to in General Elections, he launched a drive to persuade political parties to observe the ANUVRAT code of conduct, and to some extent he was successful. Tulsi had endeared himself to the people from all walks of life for his crusade against the ills that had crept into Indian social fabric.
He formulated a plan for universal peace long back which the samans, samanis and devoted votaries of his order are taking to the distant parts of the world. His three dimensional program of human regeneration, ANUVRAT, PREKSHA MEDITATION and JIVAN VIGYAN (Science of Living) has received tremendous support in the west. Jonathan Swift once said, "We have just enough religion to make us hate but not enough to make us love one another." If he had been alive he would have been extremely happy to see that there was a religious leader who was using religion as a tool not for discord and hatred but for making people love one another.
A Rare Act of Renunciation
It was 18th February, 1994. Sujangarh, an important town of Churu District of Rajasthan, was the venue of Maryada Mahotsava – a spiritual festival to review the yearly progress of monks, nuns, samans, samanis and votaries in the observance of vows which is held once a year under the auspices of the Acharya of the Jain Terapanth Religious Order. Thousands of people from all parts of India as well as from abroad had assembled in the huge stadium of the town in the afternoon. As was usual Acharya Tulsi was delivering his discourse. All of a sudden he gave a new turn to his subject and astounded the people by declaring that he was renouncing Acharyaship in favour of Yuvacharya Mahapragya. It was an unprecedented step in the history of the Jain Religious Tradition. An Acharya can nominate his successor, but we do not come across any example when an Acharya ever nominated his successor as the Acharya during his lifetime. No less astonished was Yuvacharya Mahapragya himself. Then Acharya Tulsi backoned to Yuvacharya Mahapragya to stand up. With folded hands in all humility there he stood and, continuing his historical statement, Tulsi said, "In keeping with the glorious tradition of the Terapanth Dharm Sangh, Acharyas nominate their successors from time to time, however none of my predecessors saw them elevated to the positions of Acharyaship in their lifetime but I want to see this happen. I therefore, instruct Yuvacharya Mahapragya to take over the reins of Acharyaship. I feel relaxed now. Henceforth I would be known as saint Tulsi only and I would dedicate myself and the service of entire humanity." It was a rare act of renunciation. The event showed his extraordinary courage and sacrifice.
Austerity, stoicism and renunciation were the very staple of Tulsi's life. He had no fixed abode and was ever on the march, neither did he have any property or wealth. He was a fountain of wisdom, erudition and compassion. Even at the ripe age of 83 years he bubbled with energy and enthusiasm and exuded animated love and compassion. He had put himself above all parochialism and narrow loyalties. In his own words, "I'm first a human being, and anything else afterwards."
An Iconoclast
As an iconoclast he didn't hesitate to do away with some of the practices in his order which he considered effete and a drag on progress. He introduced a series of reforms like the use of a mike and relaxation in some rules relating to the copying of the writings of monks and nuns by householders. Earlier householders were forbidden to directly copy the material written by Jain ascetics. A person desirous of copying it had to first memorize a paragraph, pass through three doors and then only he could write it down. Saint Tulsi invited his monks and nuns for a frank discussion and gave them full opportunities to express their views. Some of them, however, agreed to disagree with him. He had set a glorious example for other religious leaders of the world to follow. We hear of the most unfortunate and catastrophic events that have taken a heavy toll of human lives in the name of religion recently. In a situation such as this it is but natural for us to remember this great religious leader who preached ahimsa all his life.
His path is pathless, shorn of narrow sectarian considerations and based purely on firm commitment and adherence to the principles of love, universal brotherhood, peace and nonviolence. What astonishes everyone is his incredible power of memory and indefatigable patience. He remembered the names of thousands of his disciples and workers and kept abreast of the minutest details. ANUVRAT, Preksha Meditation, Jeevan Vigyan, the introduction of a new category of samans and samanis in is order, the editing of a large number of old Jain canonical texts, the embracing of Harijans (the untouchables) and the establishment of a large number of constructive organizations under his spiritual patronage are some of his rare achievements which have placed him in the foremost rank of great souls.
During his stay in Delhi 1994 he was invited to meditate when the parliament was deadlocked over the issue of the infamous Securities Scan. He was successful in his efforts to convince both the opposition and the ruling party that paralyzing a great institution like the Parliament was not in the interest of the nation.
The Last Leg of the Journey of His Life
Despite his advanced age and falling health he decided to continue his march. A Jain ascetic must not be stationary, he must move on. So he announced the 1997 Chaturmas for Gangashahar (Bikaner). It was for the first time after the revered Mahapragya succeeded him as the full-fledged Acharya that saint Tulsi decided to reach Gangashahar separately. They drew different itineraries and different schedules. While Acharya Mahapragya left Ladnun much earlier and embarked on his circuitous journey covering as many villages as he could, saint Tulsi chose to stay behind at Jain Vishva Bharati for sometime to rest and meditate. He later joined Acharya Mahapragya at a town a few kilometers from Bikaner. The spectacle of their meeting again filled the hearts of hundreds of his devotees with exhilaration. It was an unforgettable moment.
None of us knew, not even Acharya Mahapragya, that it was the final leg of saint Tulsi's long spiritual journey. He decided to go on retreat for a fortnight. He spent his time in tranquility doing sadhana and meditation in Bothra house which was situated at a little distance from Terapanth Bhavan. However Acharya Mahapragya and he spent a few minutes together everyday. Tulsi's devotees were eager to have a glimpse of their Guru. The retreat came to an end on 23rd June, 1997. Saint Tulsi was all cheerful. He agreed to come to Terapanth Bhavan to give darshan to thousands of devotees who were waiting for him. He walked to the Bhavan and arrived there at about 10.15 A.M. He was received warmly by Acharya Mahapragya. Tulsi hugged him affectionately. His face glowed with joy and happiness. Then the people saw the familiar spectacle of the two walking together hand in hand a few steps upto the saint Tulsi's room. He entered his room, sat on the wooden plank to relax and meditate. He instructed Acharya Mahapragya, Sadhvi Pramukha Kanakprabha and others to go and rest. Then came a devotee who he had remembered last night. He talked with him a few seconds and wanted to read a letter presented to him by his devotee. He asked for his spectacles but the destined moment for the departure of his soul had already come. In an instant it fled the body which was slumped a little. It was an abrupt end of a glorious life which lived with a purpose.
Saint Tulsi's renunciation of the body was as sudden, unexpected and dramatic as was he renunciation of his Acharyaship. The world was plunged into grief. The news spread like wildfire and thousands of people swarmed to Bikaner to have his last glimpse. A large multitude of people which included his votaries, statesmen, men of litters, politicians and eminent Jain leaders had joined the last march. His body was placed in a specially designed Vaikunthi and taken to a special place where it was consigned to flames amid the chanting of sacred Jain text. Though saint Tulsi is no more with us bodily he will live forever through his message and his contribution to human happiness.
Dr. S.L. Gandhi